The rapid progress achieved in the field of Artificial Intelligence (AI) in the past year is both impressive and daunting, but it will undoubtedly bring about a radical change for us. Many compare it to the revolutionary technology of the internet, and not without reason.
I have been immersed in this topic almost every day since last year, and now I have finally decided to give a mini-lecture on it in the form of a blog post because I believe it is an incredibly useful technology if we know how to use it wisely. I also felt it was important to provide an overview for those who are completely out of the loop about this field but are eager to get familiar with it.
Note: Fasten your seatbelts, because this is going to be quite a ride. 🙂
Midjourney – Mastering Image Generation
To illustrate the advancement of Artificial Intelligence technologies, I would like to begin with a remarkable generative technology called Midjourney. This system has achieved impressive progress in the field of image generation.
Image generation refers to the process where, based on a given textual description of the desired image, the generator produces the corresponding image for us.
Perhaps the evolution of Midjourney's image generation can be best demonstrated through a series of images, comparing different versions of the generative application starting from the initial version in March 2022 (assigned with the task of generating an image of a cat):
Clearly, in just a few months between the initial, more experimental and psychedelic version, and the fourth version, there has been an incredible leap in the field of photorealistic image generation. The current, fifth version is also capable of generating similarly lifelike images:
And no, it's not just images of cats:
Yes, all of these are generated images. None of them are real.
Moreover, it's not just limited to photorealistic images, but anything can be "created" in any style imaginable—the sky's the limit. You can even transform existing images or paintings, or ask artificial intelligence to show you their augmented, expanded versions:
I believe these examples demonstrate the immense potential that this technology holds. Of course, other image generators with similar capabilities have also emerged, such as DALL-E or Stable Diffusion. In fact, I used Stable Diffusion to generate the banner image featured in the blog title.
ElevenLabs – Speech Synthesis
Introducing another technology to ensure that sound is not left out of our repertoire, the company known as ElevenLabs has achieved remarkable success in the field of speech synthesis in recent times.
On their website, they offer a trial version of text-to-speech generation that anyone can try out. Although currently capable of generating lifelike speech in only 8 languages based on text input, they are continuously expanding the list of supported languages.
Below, I provide a link to a demo video where the same text can be heard in Spanish, English, German, Polish, and finally in French. Each voice is generated by the system, so it is not actual human recordings but rather machine-generated artificial speech synthesis.
What's even more astonishing is that although this particular feature of the service is now part of the paid offering, by uploading a voice sample, we can synthesize the voices of other people or even our own voice, and then hear any text spoken back in that!
With the aforementioned technologies, I wanted to illustrate how the quality of content generated with the help of artificial intelligence has significantly improved in recent years. With a little imagination, we can envision how the application of these technologies will spread in the near future, potentially transforming our culture and society as we know it.
But let's focus on our main attraction, ChatGPT, with which we can engage in discussions about these very topics. 🙂
The Text Generator – Enter the World of GPT Models
The terms GPT or ChatGPT are heard in many places nowadays, and for good reason.
GPT stands for "Generative Pre-trained Transformer," a type of large language model developed by OpenAI. The model's third iteration, GPT-3, was made publicly available in November 2022, and it represents one of the pinnacles of artificial intelligence as we know it today. It is capable of generating complex, human-like text and also processing natural language.
GPT-4, the latest version is the next iteration of the GPT-3 model, further enhanced to enable even more efficient and accurate text generation. It aims to achieve communication that is increasingly similar to real human speech. As of now (end of May 2023), the GPT-4 version is only available in a paid form, but the freely accessible GPT-3.5 version is an incredibly useful tool in our arsenal.
What's in it for me?
Using ChatGPT provides a kind of "live" and interactive source of information. It's like a Google search, but much easier to use. There's no need to browse through search results and try to find the most relevant information. Instead, you can directly input your questions or problems into a chat window, and ChatGPT responds in real-time.
Another significant advantage of ChatGPT is that it maintains the context of the conversation. This means that if you have further questions or want to refine your search, you can easily continue the conversation with the previously provided information. There's no need to repeat a search over and over again; you can simply continue the conversation.
Therefore, ChatGPT makes acquiring information and answering questions easier. It provides quick and efficient responses to your queries and allows for deeper processing of information and further exploration.
Okay, but what does it look like in practice?
Perhaps it's hard to believe, but approximately three-quarters of this blog post is generated by ChatGPT, and originally in Hungarian language. 😉
But let me show you how simple it is:
Note: By accident, the background music from Jurassic Park provides an appropriate ambience to the video. 😊
And yes, the first thing that stands out is that I wrote in Hungarian and received responses in Hungarian, so its usage is not limited to the English language – although due to the complexities of Hungarian grammar and likely the smaller size of Hungarian training data used for the model, there may be a higher occurrence of grammatical errors in the generated text.
Impressive?
I agree.
How can I access ChatGPT?
This technology is freely accessible to everyone, and you just need to follow these steps:
Visit the ChatGPT website: chat.openai.com.
Find the "Sign Up" button on the website and click on it.
Choose the "Continue with Google" option.
Sign in with your Google account to gain access.
Once you are logged in, you can start using ChatGPT on the website. If, for any reason, the system logs you out in the future, you can simply log back in with your Google account, as you would normally do on other platforms.
Features of the ChatGPT website
New Chat button: On the left side of the screen, there is a button for starting a New Chat, which you can click at any time to initiate a new conversation. This is useful because ChatGPT remembers what you talked about within each conversation and responds accordingly. Starting a new chat creates a clean slate for a new conversation without any "biases."
Chat History: In the left sidebar of the website, you can find all your previous conversations, which you can access if needed. Simply click on the desired chat history, and it will load the previous conversation, which you can continue from there. ChatGPT automatically names the conversations, but you can manually rename them by clicking the appropriate icon, and you can also delete a conversation by clicking the delete icon.
Copy, Like, Dislike icons: Every time ChatGPT responds, you can copy the text to the clipboard for easy pasting elsewhere, and you can also provide feedback to the company on whether the response was accurate or not.
Regenerate Response button: If you didn't receive a satisfactory answer in the conversation, you can click the Regenerate Response button to request a new response from ChatGPT, and it will start generating a new answer to your last question.
Continue Response button: Sometimes the text generation abruptly stops. In such cases, an option to Continue Response often appears. By clicking on it, you can continue the interrupted text generation. If it doesn't appear, simply send the word "continue" to ChatGPT, and it will resume generating the response.
How does ChatGPT work?
Imagine someone who has immense knowledge because they have gathered an enormous amount of information from the internet, books, and other sources. Like a super-intelligent librarian. You ask them something, and in the background, they go back to their books and other sources, trying to piece together the best textual answer based on the available data.
Of course, I must add that they can be a bit childish, sometimes overly enthusiastic, and occasionally show signs of Alzheimer's as well. 😋
But let me try to explain it differently.
As a practical example, let's look at the following sentence fragment:
"The early bird"
If someone asks us to continue it, we immediately know that
" gets the worm"
is the continuation, as this proverb was ingrained in everyone's head during school. Well, ChatGPT works in a very similar way, but let me clarify: technically, based on the text context, which includes your question and the responses given so far, it tries to generate the most fitting continuation word by word from its knowledge base.
And although it may seem like a minor detail, it's important to always keep this in mind.
Disadvantages, or what to be aware of
Now that you've learned how to access this technology and roughly how it works, let's first discuss some of its disadvantages (and let's try to reflect on these because they are important):
Lack of thinking: One of the most important things, based on what was mentioned earlier, is to understand that ChatGPT does not possess real thinking capabilities – it is not the kind of artificial intelligence we see in movies or read about in Asimov's books. It simply generates responses word by word based on patterns and information it has learned previously, aiming to sound the best. It DOES NOT have consciousness, emotions, or even logic – no matter how convincing its text may be.
Calculation problems: ChatGPT does not have precise computational abilities! While it can perform basic calculations and derive simple computations, be cautious when asking it questions that require some form of logical reasoning or calculation, especially in non-English languages. Sometimes, even seemingly simple mathematical calculations are beyond its capabilities. In the example below, I asked it for 6-character long words in Hungarian:
Hallucinations: Similarly, due to the fact that this technology only generates text and does not think, it sometimes generates content that does not correspond to reality or accurate information. This is referred to as the model "hallucinating." It is important to be able to verify the truthfulness of the answers given by the machine in some way (through internet searches), and it is useful to have existing knowledge on the topic to quickly identify false claims.
Public nature: ChatGPT is available to everyone for free because everything we input into it is used to train and improve the chatbot. Therefore, it is important not to share work-related sensitive or private information with it, as it will become part of its knowledge base (although likely in some anonymized, sanitized form, but we cannot know for certain).
Forgetting: Each newly opened conversation has a memory capacity of approximately 3,000-4,000 words. This means that within a conversation, ChatGPT "remembers" the text context to this extent. Do not be surprised if during longer conversations it suddenly exhibits symptoms of Alzheimer's and selectively forgets older instructions or details of what we have told it or what it has said.
Lack of sources and being up-to-date: And finally, a significant limitation is that ChatGPT is unable to reference its sources and is not connected to the internet. It generates information based solely on previously trained texts, which only contain data up until the end of 2021. Since the model does not have direct access to current or up-to-date information, this can limit the accuracy of the generated content and necessitates the verification of information.
Note: Even if we were to ask it to provide us with sources, we should still verify whether those sources exist because, as I mentioned before, it hallucinates! Remember that it is not connected to the internet, so even if it provides links to certain sources, they most likely do not exist and are hallucinations.
Obviously none of these links are real
I hope it's evident by now that while exciting, this is a cumbersome silver bullet and it is definitely worth using it cautiously.
And while we are talking about usage, let me mention a few examples of what we can use it for.
Ideas for Use
I'll be honest, my biggest challenge usually revolves around figuring out how to best utilize such technology in my life in the most efficient way possible. I believe it's worth for everyone to take a moment and think about this more seriously, although I understand that it may initially seem like an unfamiliar and uncertain area.
Essentially, I must reiterate that if we keep the aforementioned drawbacks in mind and don't blindly believe everything this chatbot says, this technology can potentially be used for anything with some experience.
Below, I'll present a few ideas as food for thought.
Generating stories
It is recommended for parents or even as a pastime for boredom. For instance, just for fun, I had it generate a quite long ongoing bedtime story about the wild boar. Surprisingly, ChatGPT generated a clever story and even provided a moral lesson automatically. It's worth playing around with the fact that since this is an ongoing conversation, we can freely ask it to rewrite the same story, but this time with a lion instead of a wild boar, or to make it funnier, more ironic, swap parts, add a twist, and so on. In a way, only our imagination sets the limits for the kind of response we ask for.
Brainstorming
Similarly, we can use ChatGPT for brainstorming if we let it know the topic our conversation partner is interested in. We can ask it to pose thought-provoking questions about a subject, develop a line of thought, or even play the devil's advocate and discuss the opposite of the previous line of thought, providing arguments. We can juxtapose hypotheses, engage in conversations about history or literature, geography, or come up with new ideas for woodworking, sewing, drawing – whatever strikes our fancy at the moment:
Writing
Nobody enjoys writing long emails or other texts, especially when it's necessary. However, if we specify what we need, ChatGPT is more than happy to do it for us. As an example, here are three different versions of an email. This also demonstrates that depending on the purpose, it's beneficial to request variations on a topic.
Obviously, the last example turned out to be funnier, but joking aside, we can also think about inserting an existing text and asking the generator to rephrase it in various ways. Or even have it provide a response to the text with the desired content.
Problem-solving
Basically, just like we use Google search to solve problems, we can use ChatGPT too. Whether we have a technical issue or any other questions, ChatGPT can easily provide answers and guidance. The difference is that while with Google search, we have to browse through the search results, with ChatGPT, we get direct answers.
Next time you need a solution to a problem, like when you run out of starch at home and need an alternative for cooking, or you're unsure how to safely clean an acrylic bathtub, or you're facing technical issues with your computer or mobile phone, give ChatGPT a try and ask for help. 😉
Programming
Not surprisingly, ChatGPT can answer programming questions regardless of the programming language. The huge advantage is that it not only generates code but also explains what it means within the code, either in a detailed or a simplified way. This makes it particularly useful for learning, which we'll cover in the next point.
Learning
Whether you want to dive into a programming language, practice a foreign language, or learn anything else, you can use ChatGPT's text comprehension and generation capabilities to enhance your knowledge.
Translation
Thanks to ChatGPT's excellent language skills, it can efficiently perform text translation tasks as well. Whether it's any translation task, ChatGPT is capable of interpreting sentences, accurately understanding expressions, and faithfully conveying the content to another language.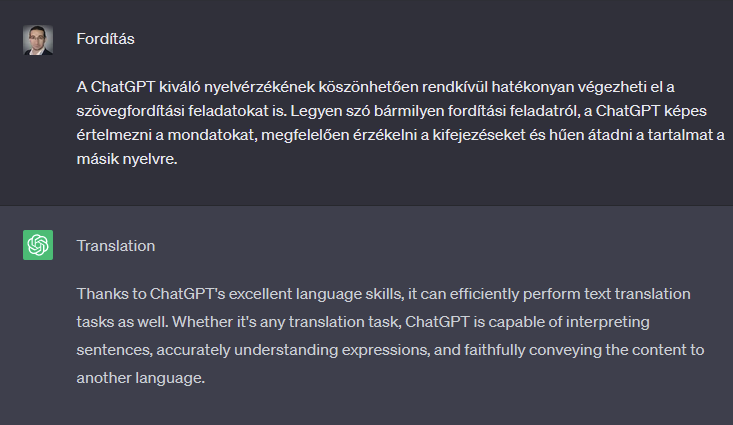 Therapy
Using ChatGPT for therapeutic purposes is an interesting possibility, but of course, it does not replace personal or professional therapeutic relationships. ChatGPT can provide a supportive and understanding environment for users to share their thoughts, feelings, and experiences. The system responds to the entered text and is capable of providing guidance, reassurance, or emotional support. This type of interaction can facilitate reflection, discussions of problems, and help users gain a better understanding of their own emotions and experiences.
It is important to note that a human psychologist or therapist can provide more prepared and personalized assistance based on individual needs. However, using ChatGPT can serve as a first step in initiating self-awareness and the process of reflection.
Travel Assistant
If you're planning a trip, ChatGPT can help with selecting a destination, sharing information about attractions, travel-related tips, and even assist in choosing accommodation. The chatbot can answer questions about places and suggest activities and programs for your trip.
Lifestyle and Health Advice
With the help of ChatGPT, you can gain numerous lifestyle and health tips that can contribute to a healthier and better life. ChatGPT can share nutrition advice, healthy recipes, workout programs, stress management techniques, and help answer your health-related questions. It can provide information about diseases, symptoms, and preventive measures for maintaining good health. If you're looking for motivation, inspiration, or life guidance, ChatGPT's responses and suggestions can be helpful for personal growth in everyday life. However, it's important to note that ChatGPT does not replace the advice and consultations of professionals, so it's always advisable to consult an expert for serious health issues.
These are just a few things that, by using ChatGPT, can skyrocket everyday productivity.
Tips and Tricks
Finally, here are a few tips to help you make the most out of ChatGPT's capabilities:
Organization
I like to keep conversations on separate threads whenever possible, and I always come back to them if I need additional information on the topic or want to continue the information-seeking process. So, I manage different topics in separate conversations, naming them appropriately:
This way, I ensure that the different roles I assign to ChatGPT won't get mixed up, and the content will be clearly categorized.
All the world's a stage
Speaking of which, a great trick is to assign a role to ChatGPT, allowing it to immerse itself even more as an expert in a particular field and provide more specific answers related to that topic. For example, "We are role-playing, and you are a famous Italian chef who helps me prepare the world's most delicious spaghetti."
Giving goals
After assigning a role, the second most important thing to communicate to the bot is what we expect from it. For example, "Your goal is to assist me with my writing tasks to the best of your abilities. If necessary, rephrase parts or the entire text, proofread it, and provide criticism." Providing examples of the expected outcome for different tasks is highly beneficial.
Changing the writing style
After using ChatGPT for a while, you will notice that it has a distinctive answering style, which can eventually become too monotonous or robotic. Fortunately, the response style is not fixed, and we can provide instructions to the generator, as demonstrated in the example above. We can ask it to rephrase certain parts, simplify the language, write like Stephen King or J.K. Rowling, or even put the response in verse. While the latter is particularly interesting in English, the results in Hungarian are generally not too bad either.
Forget-me-not
When within a conversation, ChatGPT starts to forget things or deviates from the assigned role, you can kindly remind it to stay on topic. For instance, "Remember, you're currently playing the role of an Italian chef, and we were discussing heating the finely chopped onions in the pan."
Bird's Eye View
If we want to assign a more substantial task to ChatGPT that will require a longer response, keep in mind that it will eventually forget previous information. Therefore, it would be challenging to extract an entire novel from it. The solution is to provide a detailed description of the problem from the beginning and ask the generator to first create a plan for us. In the case of language learning, for example, this could mean a specific 30-day study schedule, where the chatbot outlines the entire learning plan day by day, and we can inquire about each day's agenda individually.
Summary
Well, here we are.
This is where science and technology stand now, or as the classic movie "Spaceballs" quotes, "We're in now now."
I guarantee that in the next 5-10 years, these developments will fundamentally change, perhaps impacting almost all industries.
Welcome to the future, and good luck using your newfound conversation partner.
And if you have any questions – why not ask ChatGPT? 😉