We have the coronavirus #stayathome situation, as everyone already knows, and eventually, the endless film and series watching will also start to get boring.
What can you do in such a case? This is the best opportunity to do some genealogy research!
The story
I skimmed an index.hu article with the information that arcanum.hu made its – otherwise paid – digital knowledge base available for free. This website basically contains a searchable database of digitized historical newspapers, notes, and archival documents.
Editor's note: Although Arcanum has since closed the free access to its Premium Digital Science Library on April 16th 2021, the Hungaricana database is still available for free, or for 24 hours for 2,500 HUF, or currently on sale for 3 months for 4,990 HUF for full access (prices are from 2021) – it may be worth it for the service, but everyone should decide for themselves.
I used Arcanum before to print out one of the newspapers from the day my girlfriend was born as a curiosity for her 30th birthday.
I remembered a family story that's been circulating with us for a long time, that my great-grandfather, Béla Farkasits, a ship captain, was given a monogrammed gold pocket watch as a gift from Emperor Franz Joseph of Austria after a dangerous, river navigation without a pilot in the 1900s – the pocket watch actually exists and was in the family's possession for a long time.
I wanted to investigate this story a bit with the help of Arcanum as a kind of pastime.
Sherlock Holmes
The "little investigation" ultimately turned into a four and a half day frenetic research and family tree building, which led me to trace the family back to the Siege of Szigetvár in 1566, connecting the appearing related threads here and there.
Make no mistake, I'm not obsessed with the subject. On the contrary, it did not particularly interest me before, but I've found that it can suck you in in an incredible way and it is very fascinating to discover new information about your ancestors and family history. It can also help you to understand more about the historical events that shaped the lives of your ancestors and the world they lived in.
If you love detective novels, you'll love doing genealogy research. It's like solving a mystery, piecing together different pieces of information to form a complete picture of your family's history. It's a fun and engaging way to spend your time at home, and you never know what you might discover about your ancestors.
The process of genealogy research
If you also decide that you've had enough of the usual series and want to see a story that comes directly from your past, I'll give you a few tips and ideas on where and how to search effectively.
What?
Before we start searching, we need to know what we're looking for, so it's worth going through the family lines and recording everything we know about our ancestors.
As a small but not insignificant side mission, this is a perfect opportunity to reconnect with relatives we haven't seen in a while. Let's not be shy, let's turn on the webcam too, teach grandma how to use Skype for a video call and a little reminiscing about the past – and strengthen the family ties – especially because social separation caused by the lockdown is one of the biggest psychological challenges we have to face now.
Note: As a little help, we could also record these conversations on Skype or the platform used.
Obviously, the names, towns and dates that are interesting to us now, so we should try to collect as much information as possible from these.
Where?
After we've done our little research, the real investigation can begin. I think it doesn't matter where we start, from the nearest relative or even the farthest – perhaps from the one we have the most information about.
But where can we search?
Arcanum
From the aforementioned Arcanum databases – because there are more than one of course – the two most useful for us will be the Arcanum Digital Science Library (hereafter ADT) and the Hungaricana Public Collection Portal.
The two interfaces are obviously very similar, both have a nice little search box, where we can search in about the same way as we're used to with Google:
I should note that in Hungaricana's search results, above the filters on the right, there is a reference to ADT, which, when opened, shows the ADT results for the same expression, which often speeds up the search on the two platforms in parallel.
When clicking on the result, we can display it in the same window (it is recommended to open them in a new window), and we can navigate among multiple results in the left-hand list.
The source that you find interesting can then be bookmarked or saved in PDF format on our computer with the icon located in the top right corner:
Although I used Arcanum as my main source for searching, there are a few other platforms that are also worth checking out.
Fortepan
Fortepan is a free, community photo archive where you can browse and download over 100,000 archived photos for free, in good quality. Its search function is a bit slow, but you can still find interesting archive photos that may feature a family member – unfortunately, I didn't have much luck here.
Another side mission: If we're already here, we can also digitize our old photos with the help of a simple mobile phone (and upload them to Fortepan). A great application for scanning is PhotoScan, developed by Google specifically for this purpose.
museum-digital
With museum-digital, you can browse among the archived pieces of museums and private collections. Although the number of archived pieces is limited, I got one hit on my grandfather's name in the object search (on the right side of the group photo):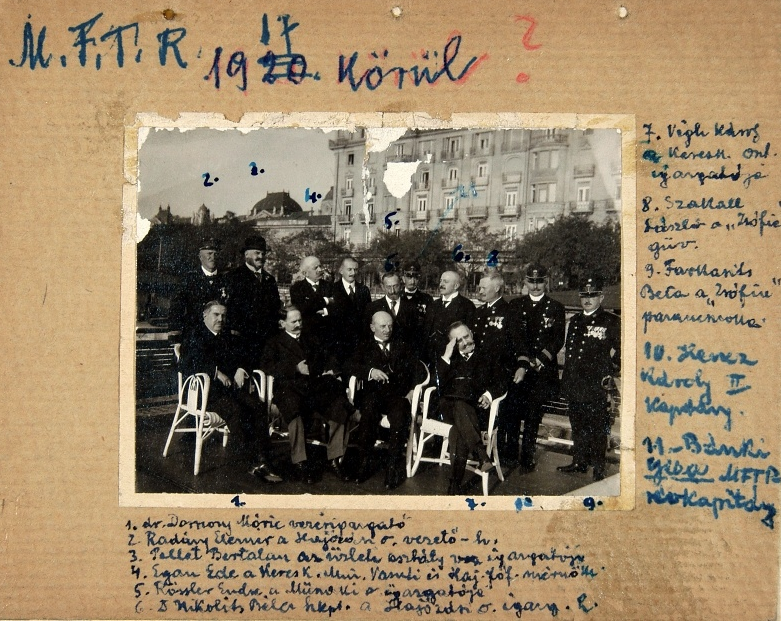 EPA – Elektronikus Periodika Archívum
The Elektronikus Periodika Archívum és Adatbázis is an initiative of the Hungarian Electronic Library, which aims to maintain a library-like inventory of Hungarian electronic periodicals and to archive certain magazines – and no, I wouldn't phrase it this way, this is their own description of themselves.
Unfortunately, the website is quite old and not very user-friendly in design, but you can find the full-text search on the right side of the main page, which you can use:
AOL – Adatbázisok Online
Adatbázisok Online is one of the most visited websites of the Hungarian National Archives. Here, you can find and search the 27 databases of the National Archives.
Névpont
névpont.hu is a very interesting initiative, it wants to be a national biographical database, although it is still in its infancy. I found my great-uncle successfully here, but the results will be very limited, so don't expect too much.
Well, I think these sources will be enough for a few days of searching, but of course you can also search for your last name with a simple Google search if it's not too common, maybe it appears somewhere else.
I won't mention foreign sites now, because that would really need an entirely new chapter, but someone fluent in English can find several sites (such as MyHeritage, radindex) where you can search for your family name – unfortunately, however, you usually have to pay for the service to view the results.
How?
Finally, I would like to give some tips on how to search on the above platforms and what to pay attention to.
Exact search: First of all, on most of the above platforms, the method that is known and overused from Google applies, that is, the search engine looks for the expression in the cat claw exactly as it is written. For example, the "Farkasits Ede" expression will only give results where these two words appear together, without inflection or any variations.
Variations on a topic: If we're talking about variations – often it happens that a family name has changed, formed, and appeared in different versions over time, so it's worth searching for these separately. Using my own example, Farkasits is now mostly spelled as Farkasics, but in the past it also appeared as Farkasich, and even its Latin version, Farkasych, was known. And of course, names like Farkasits, of Croatian origin, often appear in Hungarian spelling, where the result will be Farkas.
Separation: News articles and stories were published in columns in newspapers, and in these cases, the separator or space used for separating the words also became part of the digitized text. I found several results for "Farka-sits" or "Farka sits" simply because the words were separated in the newspaper due to line breaks.
Digitization errors: Since the searched expressions were often scanned from newspapers that are hundreds of years old, errors can occur during the digitization process. In my example, there were newspapers where Béla was replaced with Bóla, and I couldn't find them by the already mentioned cat claw method. My favorite was a newspaper where the Farkasits word was probably interpreted as a meaningful word by the digitization software, resulting in Parkosíts Béla 🙂
These were the things that came to mind. During the search, I tried to collect every potential relative and their spouse/husband in a simple Word document, and then, by searching separately, I gathered as much information as possible, preferably sorted by date and indicating the city, in order to try and connect the dots.
Conclusion
Overall, I can say that in the end, I've had an often frustrating, but mostly exciting four and a half days, where I got a little closer to understanding my paternal ancestors, the world and conditions of that time, and gained a lot of stories and information that are essentially related directly to me.